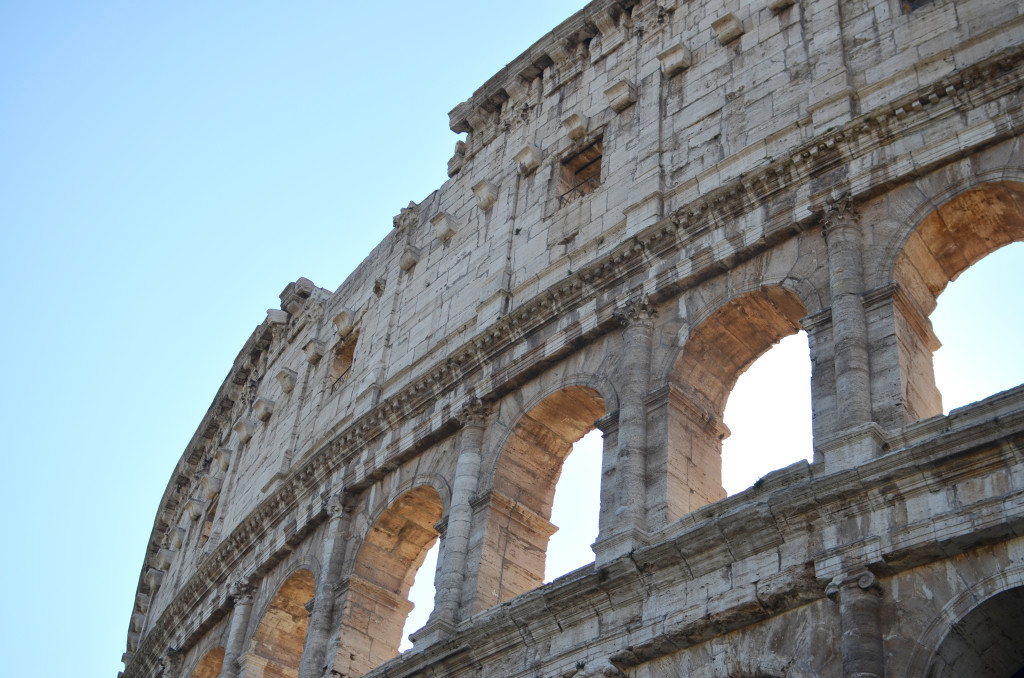 Roma.  Where do I even start?  The magic of this city hit me the moment I got my first glimpse of the Colosseum.  I had fallen asleep in our cab, as the fourteen hour overnight journey hit me as soon as I sat on that worn leather seat.  My eyes happened to flutter open and glance out the window just as we made a slight left curve around the amphitheatre.  There it was, in all of its glory, right next to a busy street and across the way from a strip of tourist trap restaurants.  It perfectly represented the way remnants of the old world and pieces of modern times exist harmoniously in Rome.
As it was my first time there, we spent our days hitting the major sights, as you will see pictured below.  As mentioned, we did a self guided tour of The Colosseum (pre purchased tickets online).  We wandered the streets until we stumbled upon The Trevi Fountain (which is unfortunately under construction at the moment), The Pantheon, and Piaza Navona (an unexpected favourite).  We did a privately guided tour of The Vatican Museum (if you want the name and contact, let me know) and then hung out in St. Peter's Square.  Our time in this beautiful city was mostly spent eating, drinking, wandering the streets, and soaking in as much of the culture and history as we could.
I really didn't have any preconceived notions about Rome, but I absolutely fell in love.  My specific recommendations will be in a post soon, but for now, I wanted to share some of my favourite photos from our explorations.   You'll also find a list of basic facts from our trip at the bottom of this post.  Hope you enjoy!
Read more by Alicia!